SUMMER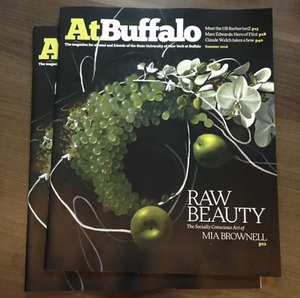 Featured in the summer issue of At Buffalo page 22! :)
---
SPRING NEWS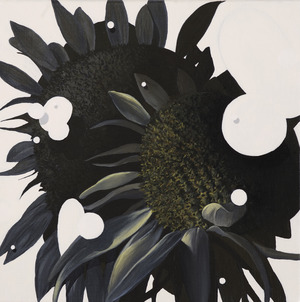 Sloan Fine Art Salon
Featuring small works by

Mia Brownell, Susan Siegel, Aaron Smith, Brad Woodfin

At

Bert Green Fine Art

, 8 S Michigan Ave Suite 620, Chicago, IL 60603

Reception: Saturday, May 14th, 5 to 8pm

Exhibition: May 14 through June 25, 2016

Gallery Hours: Friday and Saturday, 12 to 5pm and by appointment




Working on new paintings for the Fulginiti Pavillion Gallery located on the Center for Bioethics and Humanities at the University of Colorado. The Exhibition is planned for Fall 2017 and is being curated by Simon Zalkind.
---
FALL/WINTER NEWS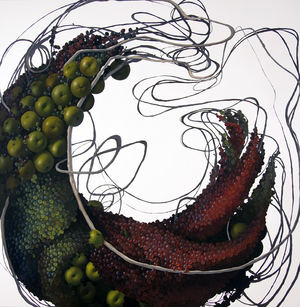 ---
JUNE!!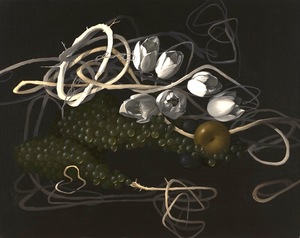 Thanks to another generous Connecticut State University Grant I will be attending The 2015 World Expo in Milan and the 56th Venice Biennale!
---
SPRING NEWS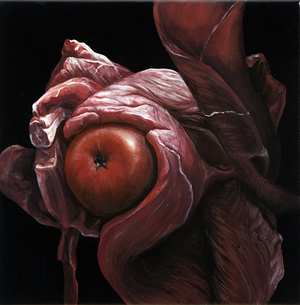 The Omnivore's Dilemma: Visualized

February 4 - April 25, 2015
Curated by Barry Rosenberg
University of Connecticut

830 Bolton Road

Storrs, Connecticut 06269
Participating artists: Janine Antoni, Robert Gober, Jake and Dinos chapman, Alexis Rockman, Roxie Paine, Frank Moore, Sharon Core, Agnes Denise, Jim Shaw, Simon Periton, Keith Edmier and a choice group of emerging artists.
http://contemporaryartgalleries.uconn.edu

Mia Brownell: At the still point, there the dance is.
March 19 - April 23, 2015
Opening Thursday, March 19
Harold B. Lemmerman Gallery
Hepburn Hall, Room 323

2039 Kennedy Boulevard

Jersey City, NJ 07305

Gallery hours: 11:00am - 5:00pm, M-F, and by appointment

Tel: 201-200-3246
Curated by Midori Yoshimoto

Mia Brownell, Holly Lynton, Melanie Sherman
June 5 – July 18, 2015
Opening Thursday, June 4
Goodwin Fine Art
1255 Delaware St
Denver, CO 80204
Tel: 303-573-1255
goodwinfineart.com
---
SWEET DREAMS IN THE NYTIMES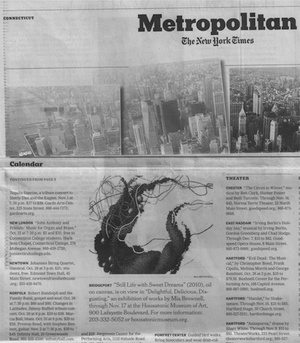 Recent Reviews of the HMA exhibit!! Up until November 17th!!




--. New York Times. Image published in calendar of Connecticut Metropolitan Section. October 26, 2014. pg 9.




Dunne, Susan. "SCSU Teacher Exhibits 'Delicious, Disgusting' Paintings"

Hartford Courant

. October 14, 2014.




Nord, Kristin. "Delightful, Delicious, Disgusting: Mia Brownell Mixes art and Science"

Art Scope Magazine

. September/October 2014. pg 48-49









---
HOUSATONIC MUSEUM OF ART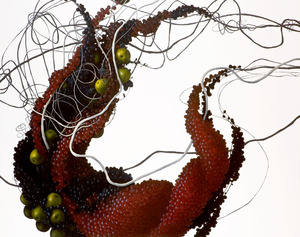 Delightful, Delicious, Disgusting:

Paintings by Mia Brownell 2003-2013 at the
Housatonic Museum of Art

Bridgeport, CT—Twenty-eight of Mia Brownell's paintings will
be on display at the Housatonic Museum of Art in the Burt Chernow Galleries from September 25th thought November 17, 2014. An opening reception will be held on Thursday, September 25, from 5:30pm until 7pm. This event is free and the public is cordially invited to attend.

Luscious and sensuous, Mia Brownell's paintings invite us to
indulge in "earthly delights" and are themselves ripe with sexual innuendo. Jennifer Anne McMahon writes in her essay, Beauty, that "evolutionary psychologists explain beauty as the kinds of tones and contrasts and shapes which are a sign of fecundity in a person (usually a female). Beauty is conceived as simply a sublimation of desire whose original teleology is procreation." The surfaces of her canvases, laden with gorgeous fruit at the peak moment of perfection, allude to carnal appetites. Author Elspeth Probyn says that "…sexuality is often paired with food as a way of exploring different
modes of sensuality." Brownell walks a fine line between the artistic and the interesting, whetting the viewer's appetite by stimulating the senses yet creating a space for detached contemplation.

And what Brownell asks us to contemplate is the brevity of life. "We begin in the madness of carnal desire and the transport of voluptuousness," wrote the philosopher Arthur Schopenhauer, "we end in the dissolution of all our parts and the musty stench of corpses." Seventeenth century Dutch still-life paintings of tables laden with gastronomic delights served to remind viewers that all things perish but Brownell's fruits invite us to relish the sweetness
of now.

But Brownell's subject matter also raises contemporary issues surrounding the politics of food: sustainability, genetic modification, and commodification of life (plants and animal) as well as the policies affecting production, distribution and consumption. Food, like art, generally provides pleasure if not in the making of it, most certainly in
the consuming of it and, as we begin to feast our eyes on her appealing images, we realize that something is amiss—these offerings, though beautiful, are unpalatable. Disgust, an emotion, affects every aspect of human activity, from political affairs to affairs of the heart. It occupies the space between death and life, both ever-present conditions. By juxtaposing the natural and the artificial Brownell critiques the biotech industry: ripe apples and juicy grapes look manufactured rather than vine-grown and the double helix alerts us that they may be the strange mutations of transgenic organisms.

Brownell's subversive use of an established genre fuses the known with the unusual "offering us excitement—visual pleasure, and as Baudelaire says, 'The beautiful is always strange,' by which he means, of course, that it is always strangely familiar and vaguely surprising."

Mia Brownell's travelling solo show, Delightful, Delicious, Disgusting, premiered at J. Cacciola Gallery in New York, and is a ten-year survey of Brownell's paintings (2003-2013). The exhibit has travelled to the Hunterdon Art Museum in Clinton, New Jersey; Juniata College Museum of Art in Pennsylvania and the Housatonic Museum of Art in Connecticut."

Gallery hours: Monday-Friday from 8:30am until 5:30pm, Thursdays until 7pm, Saturday from 9am until 3pm and Sunday Noon until 4pm. For further information contact Robbin Zella, Director of the Housatonic Museum of Art at RZella@hcc.commnet.edu or
(203) 332-5052. Visit the HMA website: www.HousatonicMuseum.
---
SUMMER NEWS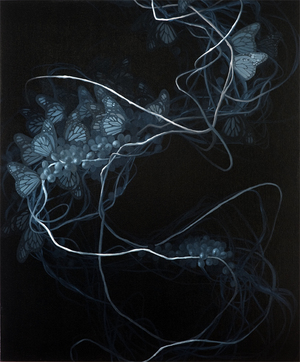 UPCOMING!
Housatonic Museum of Art
! Last stop for my traveling exhibition 'Delightful, Delicious, Disgusting' and first solo show in CT. Opening September - November. Check back for details.
GREAT FEATURES!
Sparks, Heather. "'Molecular Still Lives'Show the Science in Our Food in Us"
Nautilus Magazine
. August 8, 2014
Gouveia, Georgette. "Still Full of Life"
WAG Magazine
. July 2014
Goldstein, Darra
. "Precise Ambiguities" (Traveling Exhibition: Hunterdon, Juniata, and Housatonic Art Museums,2014)
Maloney, Judy
. "Delightful, Delicious, Disgusting: Ten Year Survey 2003-2013" (Traveling Exhibition: Hunterdon, Juniata, and Housatonic Art Museums,2014)
--. "Genetically Modified Organisms: GMOs & Wellness"
SVPN Magazine
. Spotlight feature pages 140-141. April/May 2014
Voynovskaya, Nastia. "Preview: Mia Brownell's 'Delightful, Delicious, Disgusting' Traveling Exhibition"
Hi Fructose Magazine
. December 27, 2013
---
UPCOMING SHOWS IN JAN!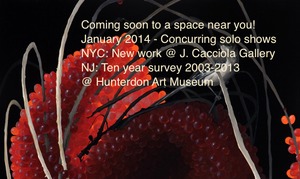 New Work
January 9– Feb 2014
Opening party: Thursday, January 9 6-8pm
537 W 23rd Street
New York, NY 10011
Ten year survey 2003-2013
January 12 –March 9 2014
Opening party: Sunday January 12 2-4pm
7 Lower Center Street
Clinton, NJ 08809
---
FOOD PHYSICS @ SUNY STONY BROOK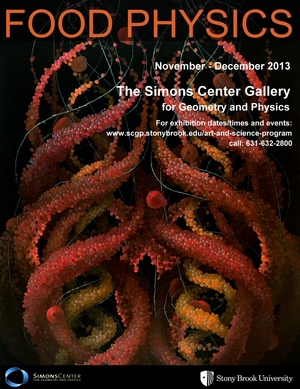 Wednesday November 6th
Opening Reception Featuring a Molecular Gastronomy Cooking Demonstration by Chef Paolo, and Talk by Artist Mia Brownell.

5:00pm: Wine and Cheese Reception with Cooking Demonstration by Chef Paolo.
Click below to hear 30 minute talk:

6:15pm: Artist talk in Room 103 by Mia Brownell
---
REVIEW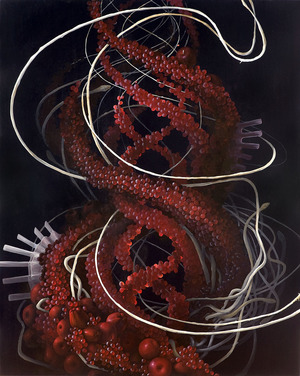 Housatonic Museum of Art Exhibits 'Eye on the Storm'

Review by Michelle Docimo for Artes Magazine

…"And then there is Mia Brownwell's Still Life with First Fruit, a double helix strand of DNA composed of juicy red apples and slender strands of white snakes twisting and turning through sprocket gears. Her painting brings into question the conflict of good and evil and whether we are born with both traits and what influences our inner workings to bring out either a sacred heart emitting light or a shadowy heart of darkness".
---
SUMMER NEWS
SUMMER SHOWS:

July-September 2013
American Association for the Advancement of Science
1200 New York Avenue, NW
Washington, DC 20005
Olga Francois, Curator

June-July 2013
Eye on the storm
Housatonic Museum of Art
900 Lafayette Boulevard
Bridgeport, CT 06604
D. Dominick Lombardi, Curator


SAVE THE DATE:

November-December 2013 (Solo show)
Food Physics
Simons Center for Geometry and Physics
Stony Brook University, NY
Flo Tarjan, Curator


SAVE SAVE THE DATE:

January-November 2014
Delightful, Delicious, Disgusting: Paintings by Mia Brownell

Delightful, Delicious, Disgusting: Paintings by Mia Brownell Is a ten-year survey of paintings from 2003-2013 traveling to the Hunterdon Art Museum, Juniata College Museum of Art, and Housatonic Museum of Art. New works will be featured at the J. Cacciola Gallery in January. There will be a companion catalog with an essay by Norman Bryson. Additional introductory words by the museum directors Marjorie Frankel Nathanson, Judy Maloney and Robbin Zella.



SAVE SAVE SAVE THE DATE:

New Work
January 9– Feb 2014
J. Cacciola Gallery
537 W 23rd Street
New York, NY 10011

Ten year survey 2003-2013
January 12 –March 9 2014
Hunterdon Art Museum
7 Lower Center Street
Clinton, NJ 08809
Words by Marjorie Frankel Nathanson, Director
Curated by Rosemary Maravetz

Ten year survey 2003-2013
April 10 – September 13 2014
Juniata College Museum of Art
1700 Moore Street
Huntingdon, PA 16652
Words by Judy Maloney, Director
Curated by Jennifer L. Streb

Ten year survey 2003-2013
September 25 – November 2014
Housatonic Museum of Art
900 Lafayette Boulevard
Bridgeport, CT 06604
Words and curated by Robbin Zella, Director